Year 2010 - XXXIX edition
"The night in which history gave away to Glory"
WELCOME TO THE ENGLISH HOMEPAGE OF
THE VENEGONO INFERIORE LIVE CRIB (ITALY)
The aim of this site is to show all of the "passion" that has driven the "Presepiatts" who,
since 1972, have been able to make the "miracle" of
Venegono Inferiore Living Crib come true.
Venegono Inferiore is a town situated in the province of Varese, in the north-west of Italy, where, since 1972 this much followed Christmas tradition takes place.
The live Crib is a historic commemoration of the birth of Jesus acted out by the presepiatt from Venegono, this is how the volunteers who carry out the preparations for this work of art like to be known. The stage props and settings are new and made from scratch each year.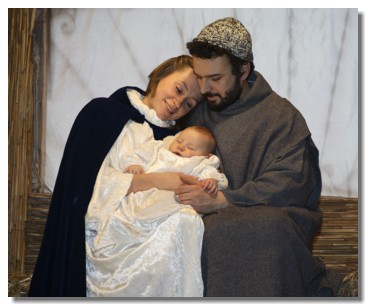 The four main characteristics of this show are:
- Stage design, this covers an area of over 300 square meters and which changes each year through the use of recycled objects/materials but also through the use of special effects.

- Introduction, which is done with every show and which lasts about 20 minutes, is re-written each year. It is the audio-guide which describes the numerous appearances during the show.

- Background setting, the characters and the costumes on display are characteristic of local rural traditions from the last century.
The actors and the walks- on appear on a rotation basis in the almost 100 shows which take place from Christmas until the middle of January each year. Baby Jesus is portrayed by newborn babies from the town . They are accompanied by their parents who take on the role of Mary and Joseph.

- The traditional still crib in miniature which is really a crib similar to the one many people have at home with statues and moss …but on display in several tens of meters squared! Each year the show, which never ceases to amaze, takes place in a designated covered area, with movement, special effects with light and water which brighten up the experience.

Thousands and thousands of spectators visit the Live Crib at Venegono Inferiore and they are pleasantly enraptured by the magical atmosphere of the crib.
This website has two aims. The first is to create more awareness of this initiative therefore spreading the Christian message about the birth of Jesus.
The second is to document the annual event of the live Crib in Venegono Inferiore so that there is a record from each year which contains relevant information.
The high number of daily visitors to our site, both from Italy and abroad, gives us the motivation to keep it constantly updated. The translation into English, French, Spanish, German, Portuguese and Japanese is a natural phase the evolution of our website.
For this reason we have created a new project called "multi-language project" to translate all the pages from this site thanks to the help of many volunteers.
PRESEPIO VIVENTE DI VENEGONO INFERIORE

CRÈCHE VIVANTE DE VENEGONO INFERIORE


LIVE-KRIPPENSPIELS VON VENEGONO INFERIORE


BELÉN VIVIENTE DE VENEGONO INFERIORE

PRESÉPIO VIVENTE DE VENEGONO INFERIORE

ヴェネゴーノ・インフェリオーレの 「生きているクリスマスの馬小屋」


您可以看到真人馬槽的網站 VENEGONO INFERIORE